Groundwater can generally be found at a constant temperature of 10 to 14°C all year round. It is a significant and stable source of energy which can easily be used to heat a house via a water-to-water heat pump.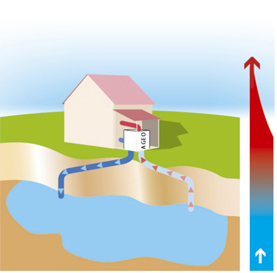 There are two ways of extracting groundwater:
Through a well, in which case, after passing through the heat pump, the water is released back into surface water (stream, pond, lake etc.)
Through a two well system, with a borehole to withdraw water and a borehole to reinject this water into the original layer.
Heat recovery from surface water (rivers, lakes, springs) is not so easy. Indeed, three important factors must be taken into consideration in order to judge whether recovery is possible:
the minimum water temperature at the coldest point of winter
the flow rate available
the quality of the water
If we are sure:
the water temperature will never fall below 8°C
the flow rate will constantly be compatible with the needs of the building to be heated (on average 1 to 2 m3/h for a 100 to 200 m2 house)
the water is neither aggressive nor polluted and does not carry any silt, in which case the use of surface water may be envisaged.