CIAT is inviting consultants, engineers, building owners, facility managers, contractors, and architects to discover its latest innovations and comprehensive system offering onboard the roadshow truck.
The roadshow includes: the new air handling units CLIMACIAT and Floway, the new Aquaciat packaged chiller and heat pump the Ereba packaged reversible air/water heat pump with Inverter technology, as well as split and multi split air to air heat pump, plus CIAT's complete Terminal Fan Coil units, MAJOR LINE, COADIS LINE,COMFORT LINE, MELODY 2. Furthermore the ITEX high energy recovery heat exchangers, the new magnetic levitation compressor and Smart CIATControl and CIATM2M supervision systems will also be displayed.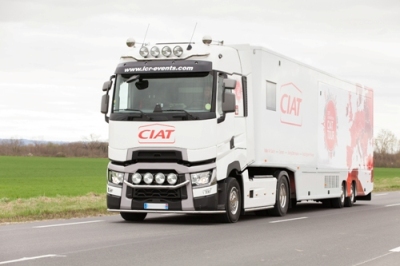 "Over the past 18 months, CIAT has transformed its offering with new products and services. The 2017 INTERNATIONAL CIAT TOUR is a great opportunity to demonstrate our new capabilities and continue to engage with our customers worldwide by bringing our expertise and latest extensive offering directly to their doorstep", says Atallah Musleh, Sales Director EMEA CIAT.
CIAT provides energy efficient solutions for all type of buildings such as offices, industrial, hospitality, shopping centres, administration, healthcare, collective housing and individual housing.